Strike Zone: The Fastest Growing Group Fitness Program, Located in Northern NJ
Not your momma's kickboxing class: Martial Arts meets strength and conditioning training
If you're looking to join the fastest growing fitness program in the country that combines a unique blend of strength and conditioning training and mixed martial arts into one intense 55-minute fitness session, you've come to the right place!
Whether you're a beginner to fitness or a professional athlete, Strike Zone caters to everyone. Our CEO, Dave Paladino and our Strike Zone coaches incorporate techniques from many different martial art disciplines and strength and conditioning training to emulate the extreme conditions a professional fighter goes through to train for a fight—minus those bumps and bruises.
Get in the best shape of your life with master coaches
CEO Dave Paladino and the Strike Zone staff are highly trained individuals with real backgrounds in martial arts and in the fitness industry.
Unlike a cardio kickboxing teacher who may take two hours of instruction in order to teach a class, Strike Zone coaches go through an intense certification program conducted by Dave, who has over 25 years of experience in martial arts and in the fitness industry as a master trainer, owner, and operator. Our coaches have their own additional years of expertise and experience to ensure that each 55-minute class a member takes is one that does your body good!
All eyes are on your form, technique, and execution
Forget bouncing around to pop music, while an instructor who does not care how your technique is, watches you sweat.
Strike Zone coaches give each individual special attention to his or her technique, form and execution of technique. That is the difference! So, get ready to learn, burn and earn serious muscles and physique. This is not a cookie-cutter class.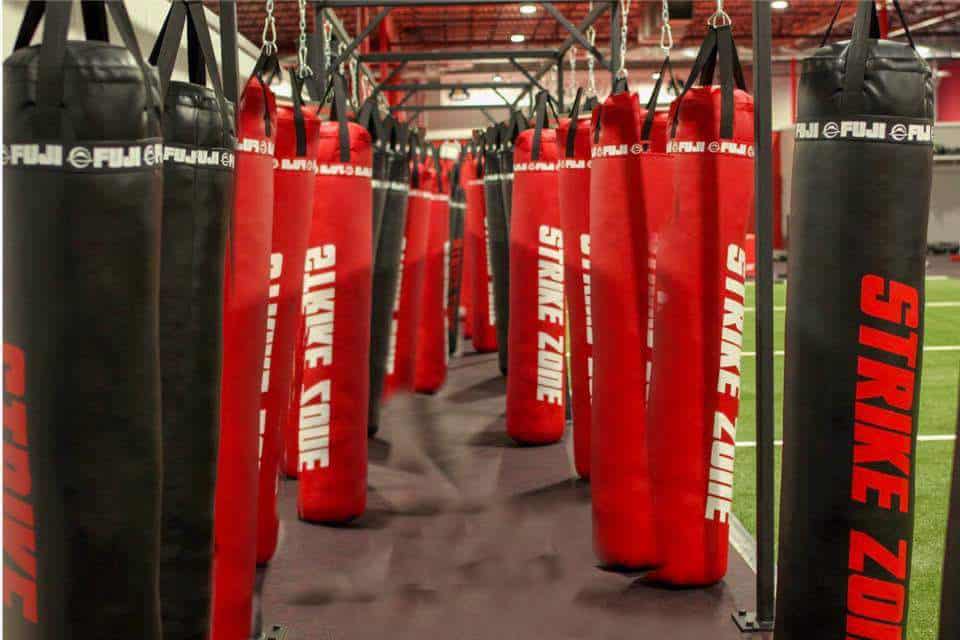 Welcome to all fitness levels
Rome wasn't built in a day—and neither is any (body). Whether you're a black belt or haven't worked out a day in your life, Strike Zone is for you.
Our classes focus on mental and physical development. Members will increase stamina, endurance, and core strength, and put you in the best shape of your life. Get ready to feel great!
Experience the difference 7 days a week.
Strike Zone classes are everyday Sun-Sat at 9am and Mon-Fri at 6pm and Tuesdays and Thursdays at 6am. We will be adding other time slots in the near future. Each class is 55 minutes long.
Strike Zone also provides free weekly consults with our on-staff nutritionist.
No commitment. Ever
Strike Zone offers you a complete mind and body workout—in addition to free weekly consults with our on-staff nutritionist.
Are you hooked yet?
If you're still thinking on it, come in for a free trial to experience it for yourself, or sign up today! There is no commitment to stay ever—no gimmicks, or tiny handprint. The only commitment you need to make is to yourself.
What about that free trial?
A free trial is available after 1 free consultation with one of our Strike Zone instructors. This session is mandatory for all new inquires in order to prevent injury and to ensure you are aware of the movements and terminology that the instructors will use during class.
To book this consultation and trial, email Info@impactzonenj.com or call/text 201-775-1025.
I'm ready to be in the best shape of my life!
Eager to join the fastest growing fitness program and see what Strike Zone is all about? Call or text 201-775-1025 or come in today.